The total number of deaths during war includes about 10 million military personnel and about 7 million civilians. The Entente Powers (also known as the Allies) lost about 6 million soldiers, while the Central Powers lost about 4 million. At least 2 million died from diseases and 6 million went missing, presumed dead. About two-thirds of military deaths in World War I were in battle. This was unlike any previous conflict during the 19th century, when the majority of deaths were due to disease. Improvements in medicine, as well as the increased lethality of military weaponry, were both factors in this development. Nevertheless disease, including the 'Spanish flu', still caused about one third of total military deaths for all belligerents. 
Britain and Commonwealth forces lost nearly 900,000 military personnel and 1.7 million men were wounded.
British Losses
By analysing the UK, Soldiers Died in the Great War, 1914-1919 collection and the 1911 Census, some 1.7 per cent of the total UK population at the time died in the First World War. In Britain that was about 10% of the male population killed, and 70% of these men were aged between 20-24 years old. Of the 700,000 British war dead, no fewer than 71% were between the ages of 16 and 29 years. The Commonwealth War Records reveal that 14,108 British soldiers died aged 18 years or younger. Research shows the level of loss was significantly higher in some areas than it was in others. Durham for example, tragically lost nearly eight per cent of its population during the First World War, with Derby (5.64%) and Dumfries (4.79%) also badly affected. 
Britain's big cities lost most men, Glasgow, 13,740;  Manchester, 3,481;  Liverpool, 10,470;  Birmingham, 9,842;  Hull,  7,500 +,  Derby, 6,952;  Edinburgh, 5,281;  Durham,  6,353;  Leeds,  4,312;  Sheffield, 4,854; and London, 41,833. But it was the Northern and Scottish towns that saw their populations hardest hit. In Durham 6,300 men lost their lives. This was equivalent to almost two in ten men in the city and nearly eight per cent of the total population. Another Country Durham town, Bishop Auckland, was also hit hard losing more than six per cent of just 13,600 people, all of them men between 18 and 50-years-old. Derby lost almost six per cent of its population and Dumfries, Scotland, five per cent, according to genealogy company Ancestry. Nine of the 10 towns and cities that lost the highest proportion of their population are in Northern England and Scotland.
Scotland which traditionally provided recruits for the British army's elite regiment's, lost 148,000 men. This was 25% of those that volunteered and more than twice the national average rate of fatalities for the whole of Britain. Over 38,000 Irishmen and 20,000 Welshmen also died in the war. 
Throughout the United Kingdom, one in six families suffered a direct bereavement, 192,000 wives had lost their husbands, and nearly 400,000 children had lost their fathers. A further 500,000 children had lost one of more of their siblings. Appallingly, one in eight wives died within a year of receiving news of their husband's death. There were also 1.7 million British wounded of which 80,000 were gas victims, 30,000 were made deaf, 80,000 had 'shell shock',  and there were 250,000 amputees. This increased over time. At the end of 1928, nearly 2.8 million war veterans received a disability pension of some sort.  While it was the big cities that lost the highest numbers of men, it was the smaller northern England and Scottish  towns that saw entire generations completely wiped out.
There are tens of thousands of villages and towns in the United Kingdom. In an October 2013 update, researchers identified only 53 civil parishes in England and Wales from which all serving personnel returned from WW1. These became known as "Thankful Villages". There are no "Thankful Villages" identified in Scotland or Ireland yet all of Ireland was then part of the United Kingdom at the time.
According to the research by the genealogy company Ancestry, the 10 UK towns that lost the highest percentages of their populations in the First World War are shown below: –
Although the great majority of casualties in WW1 were from the working class, the social and political elite were hit disproportionately hard by WW1. Their sons provided the junior officers that were expected to lead from the front. 17% of officers were killed in WW1, compared to 12% of the British army's ordinary soldiers  The British Aristocracy was devastated by the war, with 47 Peers killed and six of these, leaving no brothers to succeed them. By 1915, 9 House of Lord Peers and 95 sons of Peers had been killed in the war and it was to get worse. Some 35,000 former public school boys died in the war. About a fifth of all those who served. Eton alone lost more than 1,157 former pupils – 20% of those who served. In all, 22 Members of Parliament and 24 Peers from the House of Lords, died in WW1. The UK wartime Prime Minister Herbert Asquith lost a son, while future Prime Minister Andrew Bonar Law lost two. Anthony Eden lost two brothers, another brother of his was terribly wounded, and an uncle was captured.
German Losses
In Germany, approximately 13 million Germans served in the military during the Great War;  over 2 million or 15 percent of these, were killed.  This was a demographic catastrophe for German society. Some 13 percent of German men born between 1880 and 1899 (prime candidates for service in the war), were killed between 1914 and 1918. For German women in the doomed cohorts born between 1880 and 1899, war losses meant transformed lives. For many young German women in the 1920's, marriage and family were not possibilities; there were no young men available. This, to be sure, produced a kind of autonomy for the women affected, but, for those who had hoped for marriage and family, wartime deaths meant a lifetime alone.
After the war, the German Government reported that approximately 763,000 German civilians died during the war because of the Allied Blockade  and another 150,000 died of the war-related Spanish Influenza. Total German losses, then, military and civilian, during the Great War, thus approach 3 million. The sudden and violent death of some 2 million young men confronted Germans with that peculiar 20th century phenomenon, of mass death. The apocalyptic German experience of 1914-1918, coupled with defeat, revolution, and then civil war, engendered what Theodor Adorno (1903-1969) called "absolute despair" and that obsession with messianism, apocalypse and redemption became characteristic of Weimar Germany's culture and politics. Jason Crouthamel has explored the psychiatric dimension of this enormous trauma. For Germans, during and after the war, simply finding the bodies of the dead, and burying them properly was a vast problem.
Most of the German were either buried in mass or unmarked graves, or their graves were, after the war, in the hands of Germany's former enemies. Germany erected innumerable local monuments in honor of their war dead, but creating a national day of mourning, with appropriate national rituals and symbols proved impossible in the politically torn Weimar Republic, and that would have devastating consequences for the legitimacy of the Weimar Republic and for German political culture.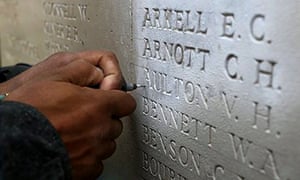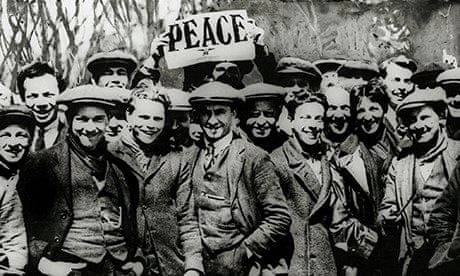 15 Legacies of WW1 – https://www.theguardian.com/world/2014/jan/15/firstworldwar
Durham and Bishop Auckland suffered some of most losses in First World War, new research reveals